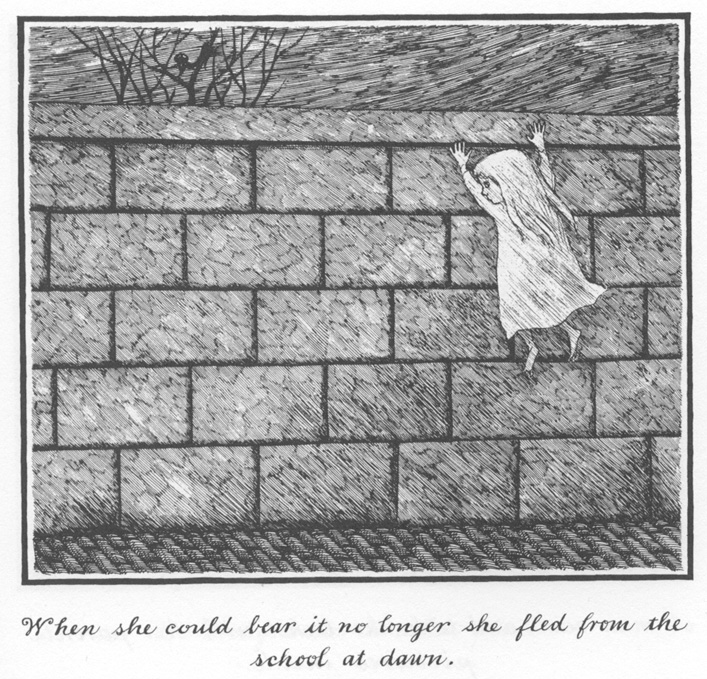 Imagine that it's me, and instead of "school" it said "temporary job"...
No, I'm kidding. It's not so bad. But really, I am right in the middle of two potentially cool situations. On one side I could be living the life of a free-wheeling temp- on a day- off a day, meeting new people, being thrust into new situations with new challenges multiple times a week. On the other side there's permanent employment, safe, secure, lots of co-workers to befriend, and no worry about whether you have the money to pay for lunch out every day. Instead I am in the middle. Two weeks at the same job. No co-worker friends, no exciting assignments. Honestly, what I'm doing today was my own idea. How sad is that?
Pretty sad.
Edward Gorey is the man. I would like to find out more about him.
This website
makes it sound as if he is dead. It's a shame I can't 'IMDB' him to find out. I know that doesn't make sense...and yet it does. Oh, ok. He died in 2000.
As is the case with Ghostworld, I hold a special place in my heart for Gorey because a friend of mine said I drew like him. It is nice to not know about the people you are being compared to. Then you get to look them up and be pleasantly suprised.
I am getting this calendar when the time comes. You should too. Amazon also has 8 million books by the guy, and an awesome poster. Look it up.